Many of us dream of the day when we can tie the knot with the love of our lives, whether it's a modest celebration spent with a few friends or it's a grand affair that brings flocks of loved ones together. No matter how you choose to celebrate your love, there will inevitably be some stresses that rise from the occasion.
How do you decide on the decorations? Is there a theme? What about the venue? And what kind of food is being served? A wedding can raise myriad questions, each with many answers, though few would disagree that one approach to a wedding serves as simply magical; an outdoor wedding.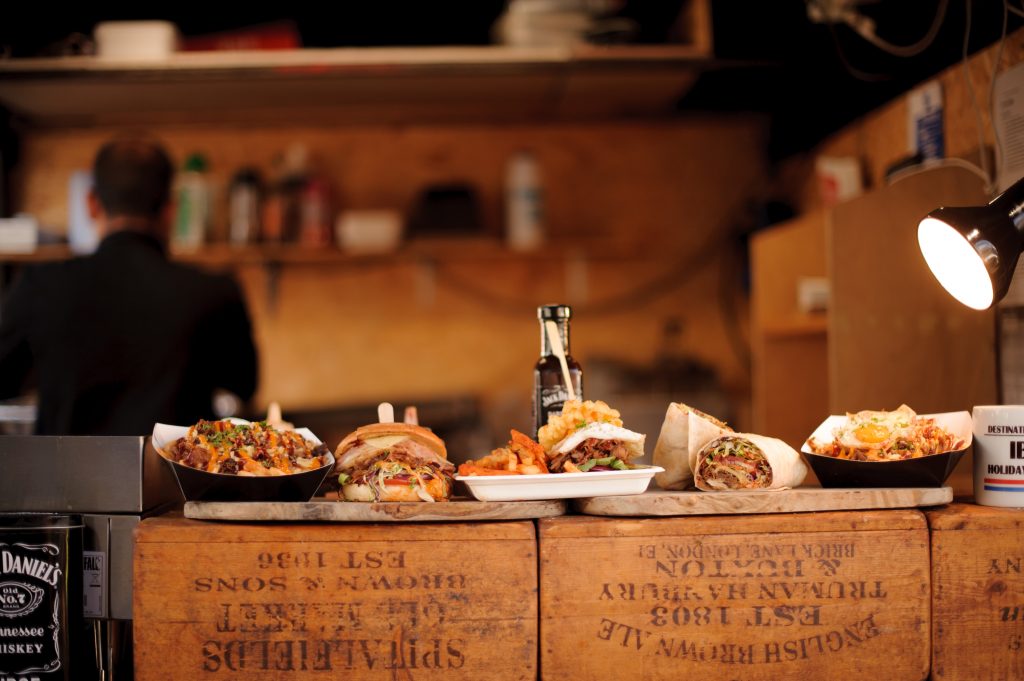 It's a Nice Day for a Wheeled Wedding
Not only does the option of an outdoor wedding create a sublime setting for your special day, but it also invites a wealth of tantalising opportunities for your catering choices; namely, food trailers!
Outdoor weddings or even venues with large, open garden exteriors can serve as the perfect places for magnificent catering possibilities. There are as many cuisines as there are stars in the sky, but when it comes to food trailers there are as many variants and different offerings as there are stars in the universe. This kind of diversity can truly allow you to pick exactly what kind of food you want to serve to your guests; all whilst done in a fun and relaxed manner.
You're not even resisted to just one kind of offering. There are food trailers that serve the likes of Mexican street food, or specialised one-dish-specialities such as Mac & Cheese, yet no matter what kind of food they serve they're just one food truck, and outdoor weddings and large exterior venues can easily accommodate different trailers. 
Picture it; do you love both pizza and crepes? Then get two specialised food trailers to come; one serving the main course and the other serving dessert!
As well as having a much more casual feel to them, food trailers are accustomed to dishing out plenty of food at a quick pace for a large group of people. Where a cater might need a kitchen set up and loads of time to prepare and serve food, food trailers can rock up to a venue ready to rock, roll & serve their fare.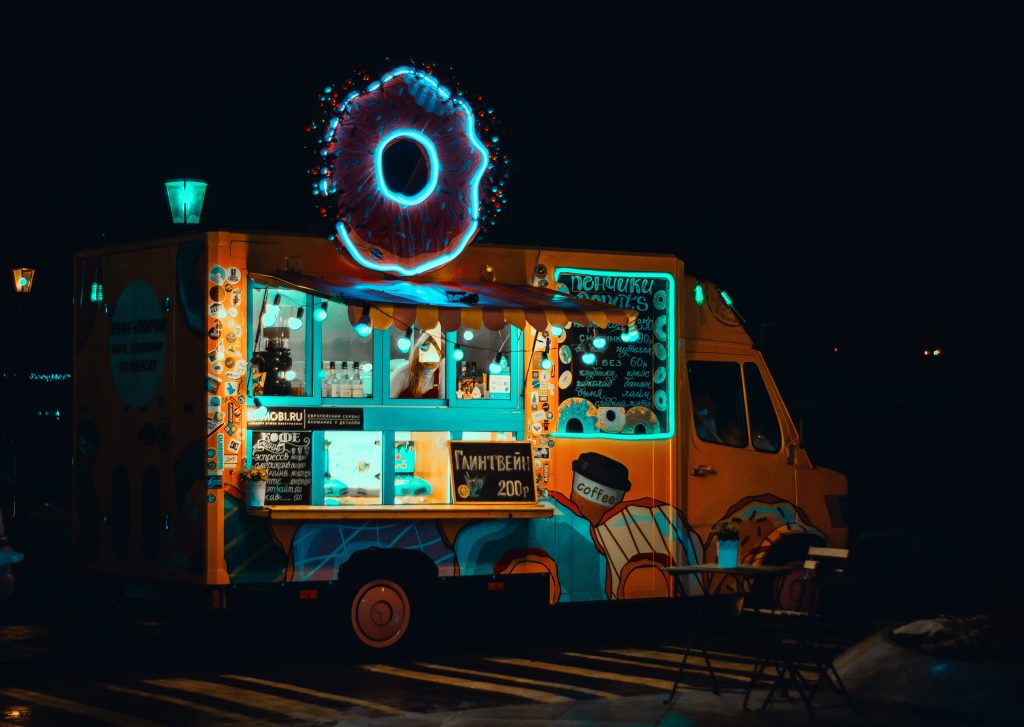 Food Trailers vs Traditional Catering; Pros & Cons
Many caters will ask a rather static question that seldom encourages a complex answer; what time would you like to be served? It's true that some can be fairly flexible, but with food trailers, you can easily organise a more relaxed, buffet-style offering that removes the need for hassles like seating plans for strictly set times.
Those who've sampled the wares of food trailers for their weddings have reported that by agreeing on a loose time period both they and their guests have been able to enjoy the occasion much more. Examples of this include Lauren Kodiak's wedding, in which she and her husband arranged to have a two-hour window during their reception for both a wood-fired oven truck to cook pizzas and an ice cream truck to serve some scrumptious food.
The result? Everyone had enough time to comfortably get some tasty fare, all whilst dancing, socialising and enjoying drinks. The former food truck had even helped to organise what they'd called a 'Harvest Table', serving appetisers during and after the main pizza offerings!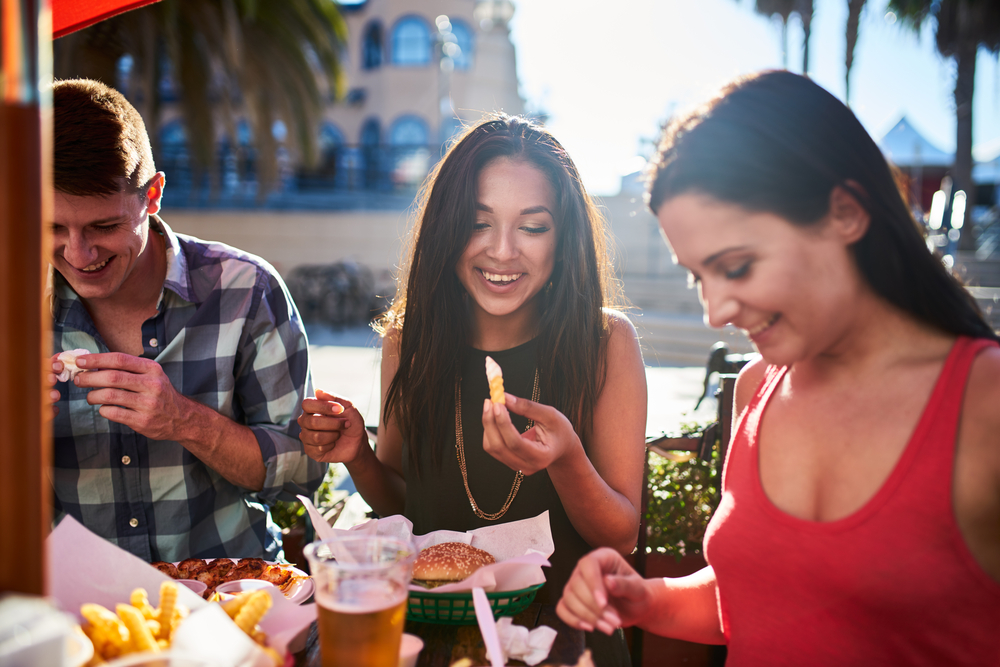 VPB: Value per Bite
One of the largest factors that came into play for his couple's wedding, as well as ensuring that all ingredients used were locally sourced and as fresh as possible, was the overall cost of the food trailers.
Anyone planning a wedding can tell you that shopping around for a good caterer can be a long and arduous process, even before narrowing down exactly what kind of food you're hoping to serve. Modest budgets, even for smaller wedding receptions, are often met with unexpected costs and high fees; the money required to hire staff, source ingredients, cook the dishes and ultimately serve them often exceed expectations.
This is where many food trailer based businesses show their greatest strength; the way that their business works. While it is important to remember that food trailers aren't specifically designed for catering events, it's undeniable that the way that they operate lends themselves well to the medium. By foregoing the likes of traditional seating plans and standard plates & cutlery formats and replacing them with more relaxed & casual alternatives, such as paper plates & napkins, you can dramatically cut costs whilst maintaining a level of quality and enjoyment (as well as adding an element of fun) to your dining experience.
Some have stated that for the same cost of feeding a wedding party a modest meal they could provide their guests with a varied feast that appeases their appetites and more. 
There's also the costs of alcohol to consider too, with man caterers considering this outside of the standard fare. By sorting out deals with external sources, whether it's hiring someone to craft cocktails, buying bulk in beers & prosecco or even, yes, finding a cocktail, wine, or alcohol-based food trailers, you can provide your guests will an excellent variety of refreshments without breaking the bank.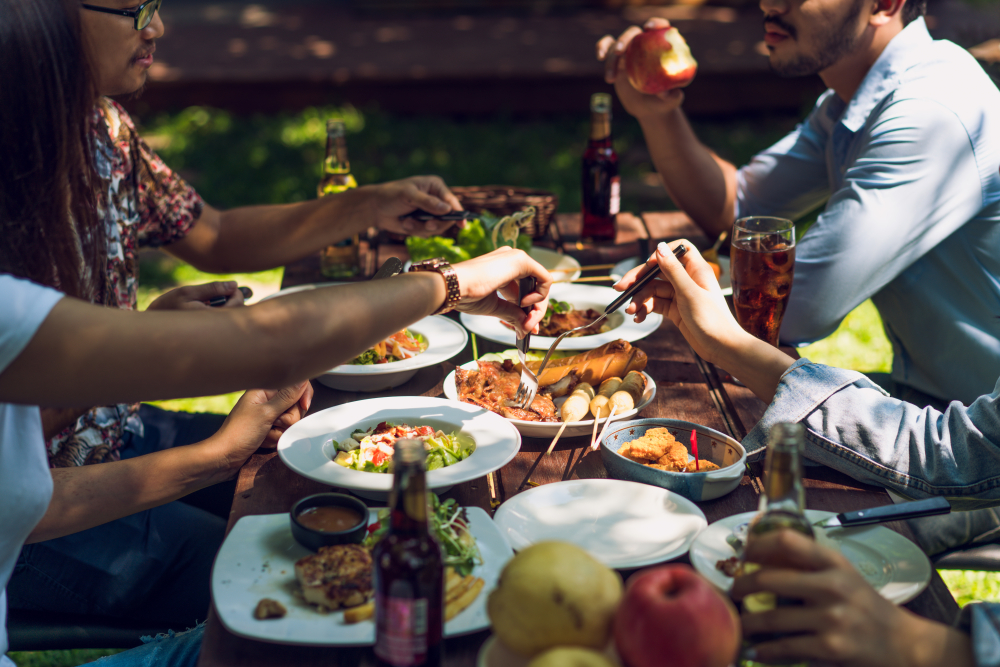 Final Thoughts on Food Trucks at Weddings
It should go without saying, but the thought of using food trailers for a wedding is not for everyone. Those seeking a more traditional wedding would probably be put off by the notion of food trucks being in the background of their big day, but it's hard not to see the charm in their services. 
Food trailers catering weddings are becoming more and more popular by the year, with some businesses even offering smaller means of serving their fare, such as hand-cart style trailers. that can be used for venues that don't enable full food trailers. These options may even be a delightful add-on to the occasion, offering the likes of midnight snacks of specific cocktails when the party is getting further into the evening.
There are also some cons to be considered, as is often the case with any big decision. One potential negative would be the noise generated by these food trailers; they're often seen at festivals and big public events because a surplus of noise is expected, yet those looking for a quaint & quiet option for a small occasion might be overwhelmed by the roar of generators; especially if their wedding DJ isn't playing music too loudly.
Of course, the concept of food trailers for a wedding ultimately comes down to taste. The advantages of a more budget-friendly, diverse and charming choice might serve some weddings well, whereas their drawbacks might be enough to dismiss them immediately. There are those in the wedding planning industry that can provide insight to either hail or condemn such services for each specific wedding, which is why it's always important to weigh up your options.
One such expert is Jamie Wolfer. If you're not fully convinced by these compelling reasons or would like to weigh the pros and cons further, then take a look at Wolfer's take on making use of food trucks for weddings:
At the end of the day, it's your big day, so whether you're in the early stages of planning or suddenly feel the need to shake things up, why not consider making good use of the many distinct possibilities food trailers provide? The many different choices and often exemplary quality make them fantastic choices, but that's just our humble opinion.
What's your take on the food trailer wedding trend? Be sure to let us know on our Facebook or by sending us a tweet on Twitter!